Apple today released a new firmware update designed for its AirTag item trackers, with the firmware featuring an updated build number of 2A36, up from the 2A24e firmware that Apple started releasing in November. Note that when you install the update, you will see a 2.0.36 version number.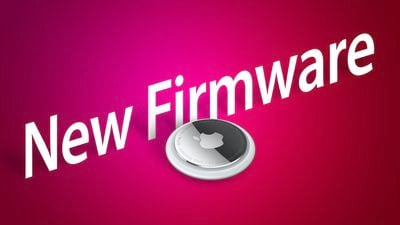 There is no word yet on what's included in the update, but Apple may provide a support document with details.
It is not possible to force an AirTag update, as it's something that's done over-the-air through a connected iPhone. To make sure the update happens, you can put your AirTag in range of your ‌‌iPhone‌‌, but you have to wait for the firmware to roll out to your device. You can check your current AirTag firmware version through the Find My app, with instructions available in our how to.
Curiously, Apple started providing the prior 2A24e AirTags firmware on a rolling basis in November, but ultimately pulled the update before it saw a full launch. The new firmware released today replaces that version.
Related Stories
Apple Releases Firmware Update for AirTags
Apple today released a new firmware update designed for its AirTag item trackers, with the firmware featuring an updated build number of 2A24e, up from the 1A301 firmware that was released back in April. Apple does not provide release notes for AirTag updates, so we do not know what's new in this update. It is not possible to force an AirTag update, as it's something that's done…
Apple Releases Firmware Update for AirTags
Apple today released a new firmware update designed for the AirTag item trackers. The update has a build number of 1A301 (firmware version 1.0.301), up from 1A291. There's no word on what new features the firmware might add at this point in time as Apple has not provided release notes. It is not possible to force an AirTag update, as it's something that's done over-the-air through a…
Apple Releases New MagSafe Charger Firmware
Apple today released updated firmware for the MagSafe Charger that is designed to work with the iPhone 12 and later and the AirPods Pro 2. The new firmware is version 10M1821, up from the prior 10M229 firmware. Note that in the Settings app, you'll see a different version number than the firmware number, with the update displayed as version 255.0.0.0 (the prior firmware was 247.0.0.0). The…
Latest AirTags Firmware Update Tunes the Unwanted Tracking Sound for Easier Detection
Earlier this week, Apple began rolling out a firmware update for AirTags, and while it wasn't clear at the time what changes were included in the update, Apple has now revealed in a new support document that it tweaks the sound made by unknown AirTags found to be traveling with you. AirTag Firmware Update 1.0.301 Tuning the unwanted tracking sound to more easily locate an unknown AirTag.Ap…
Apple to Start Sharing What's New in AirPods Firmware Updates Via iOS 16
Apple plans to begin listing new features and changes in AirPods firmware updates in a forthcoming support document on its website. In the fifth developer beta of iOS 16, navigating to Settings → General → About → AirPods and tapping on Firmware Version leads to a new page indicating that AirPods firmware details are available at support.apple.com, complete with a link to a support…
Apple Now Provides Release Notes for AirPods Firmware Updates
As expected, Apple has published a new support document with release notes for standard AirPods, AirPods Pro, and AirPods Max firmware updates. Going forward, Apple says the page will outline new features and changes included in AirPods firmware updates. The latest firmware version for AirPods is 4E71 and was released in May. Sadly, Apple's support document is not particularly helpful for…
Apple Releases New Firmware for AirPods Pro 2
Apple today debuted a new firmware update for the second-generation AirPods Pro, marking the second update that the earbuds have received since their fall launch. The existing 5A377 firmware has been updated to version 5B58. There is no word on what features might be included in the refreshed firmware, so we don't know what's new. Apple also does not provide instructions on how to upgrade …
Apple Releases New Firmware for AirPods Pro 2 Ahead of Launch
Apple today released new firmware designed for the second-generation AirPods Pro, which means the new AirPods will have a day one firmware update available at launch. The 5A377 firmware is now available for new AirPods Pro owners, up from the 5A374 firmware they ship with. Apple has not provided information on what's included in refreshed firmware updates for the AirPods‌, so we don't…
Popular Stories
iOS 16.2 for iPhone Expected to Launch Next Week With These 12 New Features
iOS 16.2 is expected to be released next week following nearly two months of beta testing. With last-minute additions like Apple Music Sing and Advanced Data Protection, the software update now has over a dozen new features for the iPhone. Below, we've recapped many of the new features coming with iOS 16.2, including Apple's new whiteboard app Freeform, two new Lock Screen widgets, the…
Two Unreleased Macs Spotted in Steam's Database
Two unreleased Mac models have been spotted in Steam's November 2022 survey, which gathers anonymous information from willing Steam users on specific details of their computers, including the computer's model, CPU type, memory, and more. In the survey for November 2022, two unreleased Macs with identifiers "Mac14,6" and "Mac15,4" were spotted towards the bottom of the list, alongside model…
Can't Get an iPhone 14 Pro? Here's Why You Should Wait for the iPhone 15 Ultra
Due to production issues at Apple supplier factories in China, the iPhone 14 Pro and iPhone 14 Pro Max are backordered and basically out of stock at every store. If you were planning to gift or receive an iPhone 14 Pro model for the holidays and didn't already get one, you're basically out of luck because they're gone until late December. Subscribe to the MacRumors YouTube channel for more …
Google Chrome Gains Support for Passkeys, Making it Easier to Log Into Websites and More
Google Chrome has announced it has gained support for passkeys, a new industry-wide standard with the hope of replacing passwords by making it easier and safer to log into websites and apps. With passkeys, users can authenticate and log into websites using their iPhone or Android devices, replacing the need for a password. On newer versions of iOS and Android, users visiting websites that…
Twitter to Increase Tweet Character Limit to 4,000, Elon Musk Says
Twitter will eventually increase its character limit from the current 280 to 4,000, the company's new CEO, Elon Musk, has confirmed on Twitter. In reply to a question whether rumored plans for Twitter to increase the character limit to 4,000 were true, Musk responded "Yes," without providing additional information. Twitter originally had a character limit of 140 before it was increased to…
13-Inch MacBook Air With OLED Display Rumored to Launch in 2024
Apple plans to introduce new 13-inch MacBook Air, 11-inch iPad Pro, and 12.9-inch iPad Pro models with OLED displays in 2024, according to display industry consultant Ross Young, who has shared accurate information about future Apple products in the past. Young shared his latest information in a tweet with his subscribers on Sunday. Young did not share any additional details, but earlier…
Expanded iCloud Encryption Can't Be Enabled From New Apple Devices Right Away
Starting with iOS 16.2, iPadOS 16.2, and macOS 13.1, all of which are expected to be released next week, users have the option to enable a new Advanced Data Protection feature that expands end-to-end encryption to many additional areas of iCloud, including Messages backups, Photos, Notes, Reminders, Voice Memos, and more. To protect users, Apple does not allow Advanced Data Protection to be…
Hands-On With Apple Music Sing in iOS 16.2
With the iOS 16.2 release candidate that came out today, Apple added the new Apple Music Sing feature that was announced earlier this week. We thought we'd check out the new karaoke feature to see how it works. Subscribe to the MacRumors YouTube channel for more videos. Apple Music Sing is available on modern iPhones and iPads, as well as the newest Apple TV 4K. It's built in to the Apple…