We now have new information regarding Tesla's updated cameras that will be used in Hardware 4.0. Twitter user @ChrisZheng001, who has ties with the Tesla supply chain in China, posted three images that appear to be camera configurations. While the information in the picture is limited, there is enough text to uncover what may be in development at Tesla.
Three Cameras to Two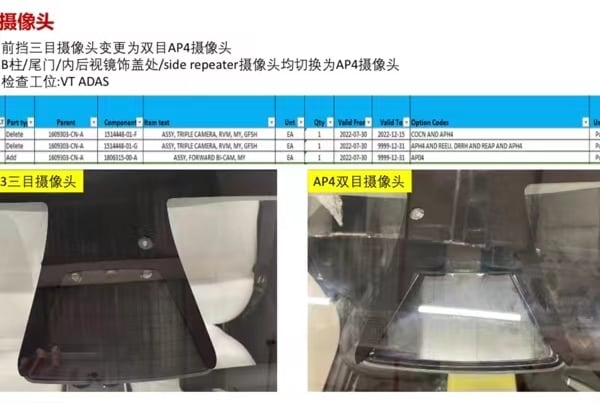 Perhaps the biggest change comes to the trio of cameras that make up the forward-facing view for the Autopilot system. The translation appears to state that Tesla will be reducing its three front-facing cameras down to two and all cameras, including the interior camera, will be upgraded to 'AP4' cameras. The newer cameras are expected to have a much higher resolution in addition to other improvements such as LED flicker mitigation.
The only information provided by @ChrisZheng001 in the post is: The Autopilot HW 4.0 front camera will be reduced to two Cz (because) of the significant increase in both pixel density and field of view.
In November of 2022, it was revealed that a Tesla supplier was producing 5-megapixel cameras. The current cameras are 1.2 megapixels. So, while the number of cameras is being reduced, Tesla Vision will actually improve.
Fans for Forward Facing Cameras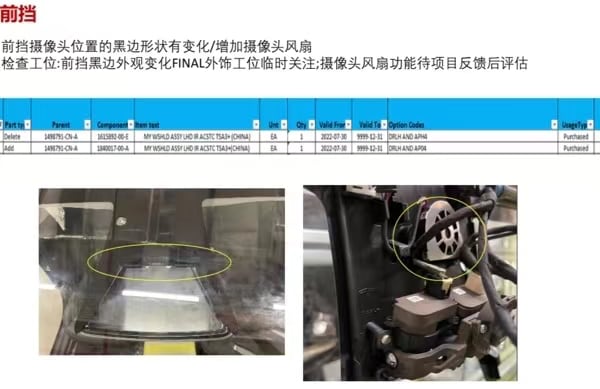 That leads to the next change. The housing size doesn't appear to change, just what is in it. According to the document, and again using Google translate, it states: the shape of the black border at the position of the front camera has changed/added a camera fan.
By that wording, it sounds like the new housing will include a fan, likely to prevent condensation buildup. However, it seems open for change with a window for feedback and further evaluation.
B-Pillar Changes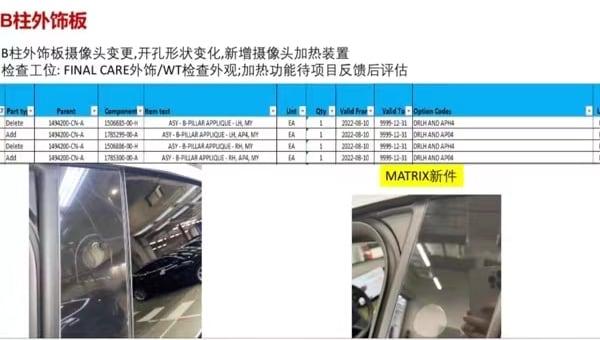 There is one more picture. The text reads: B-pillar exterior trim. B-pillar exterior panel camera change, opening shape change, new camera heating device. Inspection station: final care exterior decoration inspection appearance; heating function will be evaluated after project feedback.
There is not much to figure out there. Tesla appears to be adding a heating device to keep the B-pillar cameras clear and changing the shape of the opening. That could be due to the size of the new cameras or the field of view they require.
It's widely speculated that a new high-resolution radar unit is in the works. That radar combined with these high-powered cameras means Tesla's already incredible Autopilot system will only improve.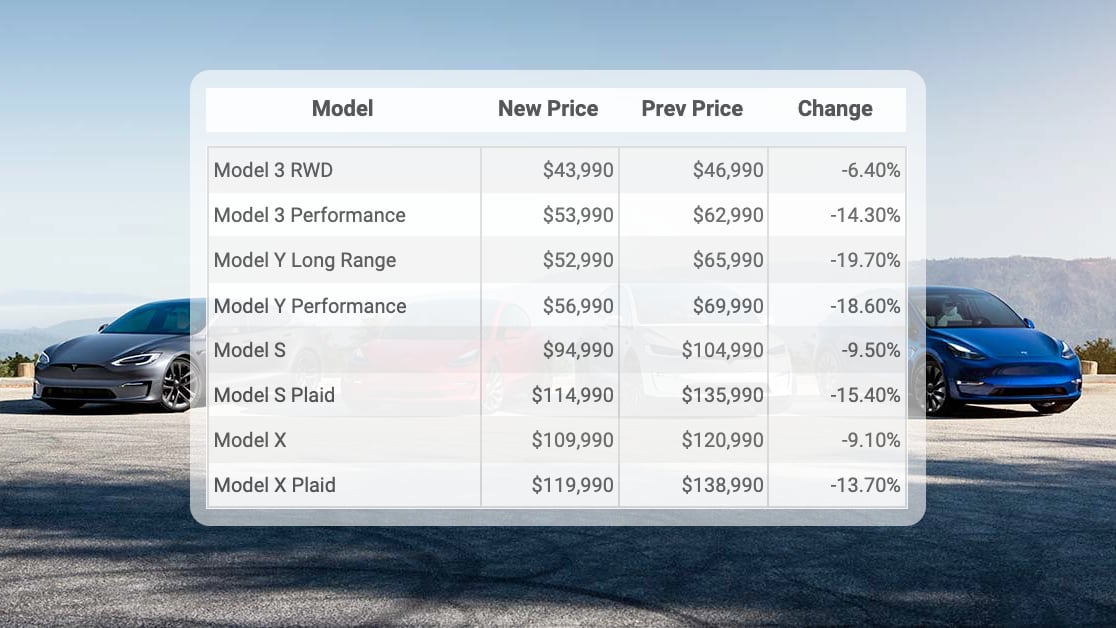 Tesla dropped prices on all models in several countries, which should not be surprising. It's unlikely it has anything to do with the company's plummeting value on the stock market, a perceived lower demand, or an effort to qualify for tax credits. Tesla's entire price drop game plan was forecast just a few days ago by a Tesla executive in China.
Tesla does not have a communications department. All the company information comes from its website, social media accounts or Elon Musk's Twitter account. That's why it was worth finding a translation of a rare interview a Tesla vice president gave to the media in China on January 9, 2023.
When Tesla Executives Speak, You Should Listen
Tao Lin spoke to reporters just days after Tesla dropped the prices in China. Her answers provided reasons behind the lower prices, not only in China but worldwide. "Some media said that we lowered the price because we couldn't sell anymore. I think it's really nonsense," Lin said. "I personally think that the price adjustment reflects our better planning for the supply chain in a sense, and what level the vehicle cost will be, and then we make such adjustments according to this estimate."
Lin then explained, "The price adjustment of a product is actually a forecast of the company's cost changes in the next period of time. The biggest difference between 2023 and last year is that the epidemic has basically passed. We believe that the supply chain has returned to normal to a large extent, and there will be no such unpredictable shortages of materials as in previous years, which brought cost uncertainty."
Tesla Supply Chain Certainty Indicated in Q3
During the third quarter earnings call, Musk spoke about supply chain issues that had hampered production during the pandemic. But he also discussed how the company had advanced in other areas and was optimistic about future production. "What we are seeing is practical improvements as we redesign the whole supply chain and all of the elements that go into a battery cell. We're figuring out dramatic efficiencies."
Zachary Kirkhorn, Tesla's Chief Financial Officer, answered a question about the Inflation Reduction Act during that same earnings call. There were not many details available at that time. Still, he stated, "it's difficult to fully determine the eligibility criteria, but we believe Tesla is very well-positioned to capture a significant share of that for solar storage and also electric vehicles."
Tesla's Transparency is the Problem
Some customers in China who bought a Tesla just before the price cut were furious. That's likely to be the case in other countries as well. However, consumers need to remember that Tesla is a direct sales model. How quickly everyone forgets auto dealers have been changing prices for decades.
Lin gave this example, "for a traditional car, everyone buys it at a different price at a dealer, so you don't really know whether the price you bought is the lowest or not, and you don't know what price other people are buying. Is it fair to consumers?"
Tesla has not only changed the automotive industry by making electric vehicles a viable product, but it also changed how people buy cars. "We adopted some relatively new concepts, such as the direct sales model, such as price adjustment strategies, and we hope to gradually make everyone feel that these concepts are feasible. Under the direct sales model, the prices are completely open and transparent, without discounts or price increases, and everyone is the same at the same time."
Price Reductions in the U.S.
We suspected these price cuts were coming as the EV tax credit in the US listed all Model 3s and Model Ys as qualifying for the tax credit. All variations of the Model Y now qualify for the $7,500 tax credit in the US.
The price cuts also affect many countries around the world such as Spain, France and Portugal. Although the reduced pricing of the Model S and Model X appears to be limited.
Below is a list of the new and previous prices of all Teslas models in the US and the percentage changed.
| | | | |
| --- | --- | --- | --- |
| Model | New Price | Prev Price | Percent Change |
| Model 3 RWD | $43,990 | $46,990 | -6.4% |
| Model 3 Performance | $53,990 | $62,990 | -14.3% |
| Model Y Long Range | $52,990 | $65,990 | -19.7% |
| Model Y Performance | $56,990 | $69,990 | -18.6% |
| Model S | $94,990 | $104,990 | -9.5% |
| Model S Plaid | $114,990 | $135,990 | -15.4% |
| Model X | $109,990 | $120,990 | -9.1% |
| Model X Plaid | $119,990 | $138,990 | -13.7% |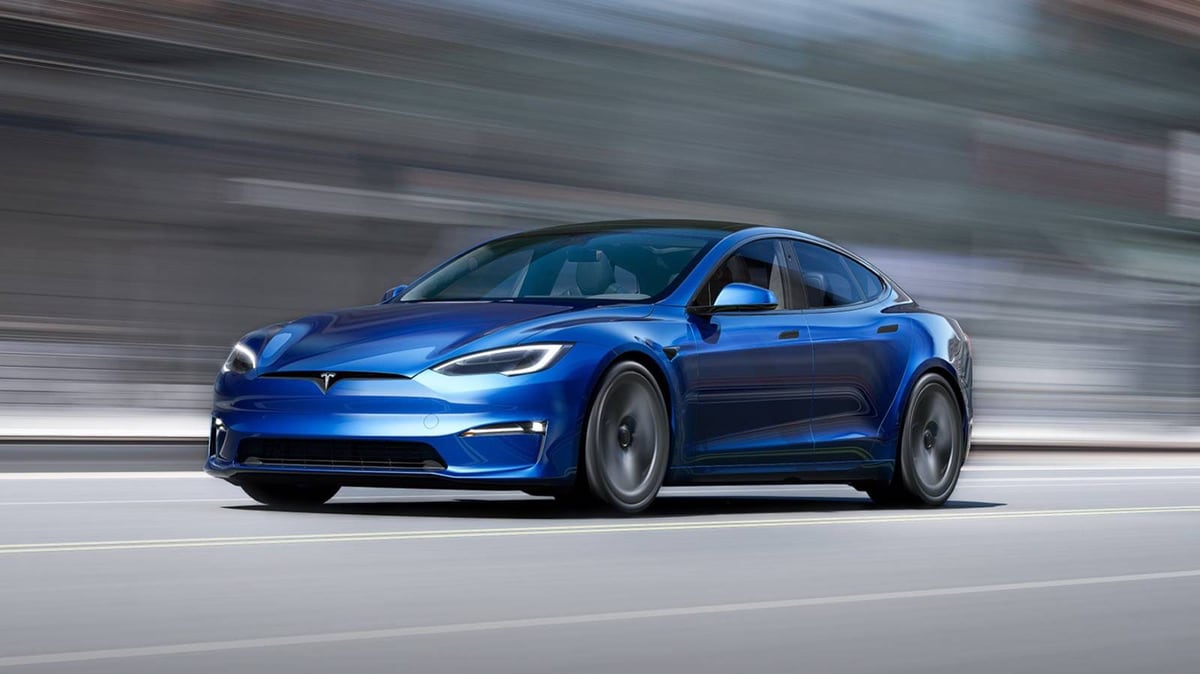 Tesla's Model S Plaid is the most impressive car on the road today. It's not just that it looks great, but it has some serious power underneath the hood… or frunk. Recently, MotorTrend tried the Tesla Model S and declared it the fastest car they have ever tested. That's saying something.
MotorTrend first appeared on magazine stands in 1949. With more than 70 years of experience driving thousands of cars, the Model S Plaid beat them all.
0-60 MPH in 2.3 Seconds
The Tesla Model S Plaid is a high-speed car, and the stats back it up. According to MotorTrend, the Model S accelerates from 0-60 MPH in an astonishing 2.3 seconds.
"When experiencing the acceleration of a Plaid, it's abundantly clear that virtually the only force you feel is the Tesla's seatback hurling you forward to a degree that genuinely makes the horizon the floor. Except that floor is rushing up at you far faster than any free fall ever could."
Earlier in the article, the author explains that a free fall speed equates to accelerating from 0-60 in 3 seconds.
The Tesla website says the Plaid can go faster than MotorTrend reported, with a 1.99 second 0-60 time. Its three mighty electric motors, two in the back, power the all-wheel drive system producing a ridiculous 1,020 horsepower and 1,050 ft-lb of torque. The top speed is pegged at 200 MPH; for comparison, the maximum speed in NASCAR last season was recorded at 190.7 MPH.
Tesla Model S Plaid Specs
| | |
| --- | --- |
| Spec | Value |
| Curb Weight: | 4,816 lbs |
| ¼ Mile Time: | 9.3 seconds at 152.2 mph |
| Motor Layout: | Tri-motor, one front, two rear |
| Maximum Horsepower: | 1,020 hp |
| Maximum Torque: | 1,050 lb-ft |
| Top Speed: | 200 MPH |
| Cost: | $119,990 |
Model S Plaid Does the Quarter Mile in 9.3 Seconds
Tesla's Model S also laid down a blistering quarter-mile to earn the title of the fastest car MotorTrend has ever tested. The blue Plaid devoured the quarter mile time in 9.3 seconds. It should've been a red Model S because this car was burning the record books and lighting the track on fire.
It's not just the motors; the cutting-edge software and aerodynamic design also contribute to its superior acceleration.
60-0 MPH Braking in 104 Feet
In addition to its blistering quarter-mile time, the Model S is able to achieve 60-0 mph braking in just 104 feet, while providing a maximum lateral acceleration of 1.02 Gs. This makes it one of the quickest cars ever produced and gives it the performance capabilities that rival some of the world's top supercars.
In other tests, the Plaid had a record stopping time as low at 98 feet. The impressive stopping power of the Model S can be attributed to its combination of powerful brakes and low center of gravity. The regenerative braking system also helps reduce wear on the brakes and allows for maximum braking performance. In addition, the Model S also features an advanced stability control system that helps to keep the car stable and in control during hard braking maneuvers.
Top 10 Fastest Electric Cars
| | |
| --- | --- |
| Car | 0-60 MPH Time |
| 2021 Tesla Model S Plaid | 2.3 Seconds |
| 2020 Porsche Taycan Turbo S | 2.4 Seconds |
| 2022 Lucid Air Grand Touring Performance | 2.7 Seconds |
| 2022 Audi RS E-Tron GT | 2.9 Seconds |
| 2022 Mercedes-AMG EQS 4Matic+ Sedan | 3.0 Seconds |
| 2022 GMC Hummer EV Edition 1 | 3.0 Seconds |
| 2022 Rivian R1T Launch Edition | 3.1 Seconds |
| 2023 Kia EV6 GT | 3.2 Seconds |
| 2023 BMW iX M60 | 3.2 Seconds |
| 2022 Rivian R1S Launch Edition | 3.2 Seconds |
The Tesla Model S Plaid, which added track mode in 2021, has pushed the performance boundaries and set a new standard for high-performance electric vehicles. Its quarter-mile time of 9.3 seconds is remarkable, and its ability to reach 0-60 mph in just 2.3 seconds is extraordinary. Elon Musk wrapped it up best, responding to a tweet about MotorTrends results. He tweeted: Plaid is sickkk.