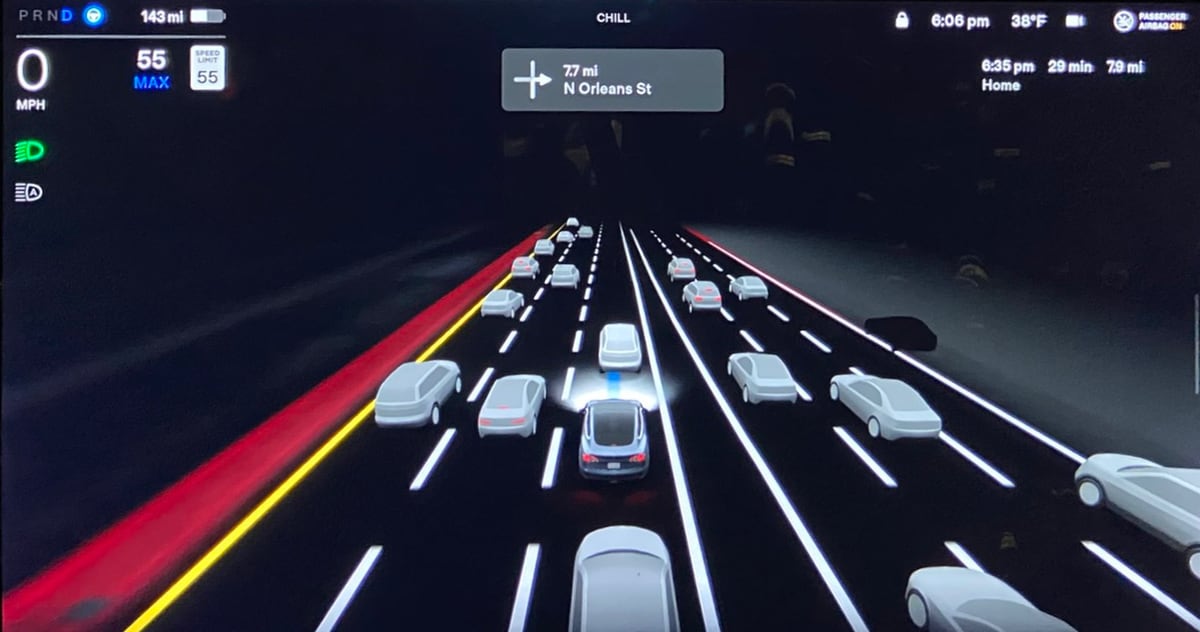 Elon Musk has provided a much-anticipated update on version 11 of Tesla's Full Self-Driving (FSD) software.
In a recent tweet, Musk stated that the development of version 11 has been a significant challenge due to a major overhaul of the neural networks used in the system and the replacement of several C++ components with additional neural networks.
Musk states that he hopes to ship FSD v11.3 by the end of this week. Even if this date doesn't slip, we're likely looking at a very small amount of users getting this early version. In typical Tesla fashion, Tesla will slowly ramp up the number of users testing the latest update.
Musk previously commented on FSD Beta v11 on January 20th, saying he was reviewing it for a possible release the following week. When the release of FSD v11 didn't happen, it left many wondering what the delay was or when we could expect the update.
This isn't the first time FSD v11 has been delayed. Musk expected v11 to start rolling out in about two weeks on January 11th when he tweeted:
Looks like V11.3 will be ready for wide release in about 2 weeks. Many major improvements.
Despite the difficulties, Musk remains confident that Tesla will be able to ship version 11.3 by the end of the week, offering Tesla fans and investors a glimpse of the major progress being made towards full autonomy.
Full Self-Driving Beta Version 11
Version 11 will be one of Tesla's biggest software FSD releases to date. Tesla started testing FSD v11 to select employees around Thanksgiving of 2022. The biggest improvement that owners are excited about is the merger of highway and city driving, which is expected to bring numerous improvements to highway driving.
In recent years, Tesla has made significant investments in the development of its Full Self-Driving software, and hopefully the release of version 11.3 later this week will provide additional safety features and significant improvements to Tesla's autonomy capabilities.
Hardware 4.0 and Retrofits
Musk and Tesla recently talked a little bit about its upcoming upgrades to FSD hardware. They didn't reveal specifics but said that the Cybertruck will include it. It's not clear whether the Cybertruck will be the first vehicle to include the new FSD hardware or not. Rumors claim hardware 4.0 will contain upgraded 5MP cameras, an HD radar, and provide additional commute power.
With previous hardware upgrades, Tesla has offered retrofits for older vehicles, however, Elon Musk said retrofitting vehicles equipped with hardware 3.0 the latest FSD hardware will not be economically feasible. Musk goes on to say that hardware 3.0 will still be capable of being safer than a human.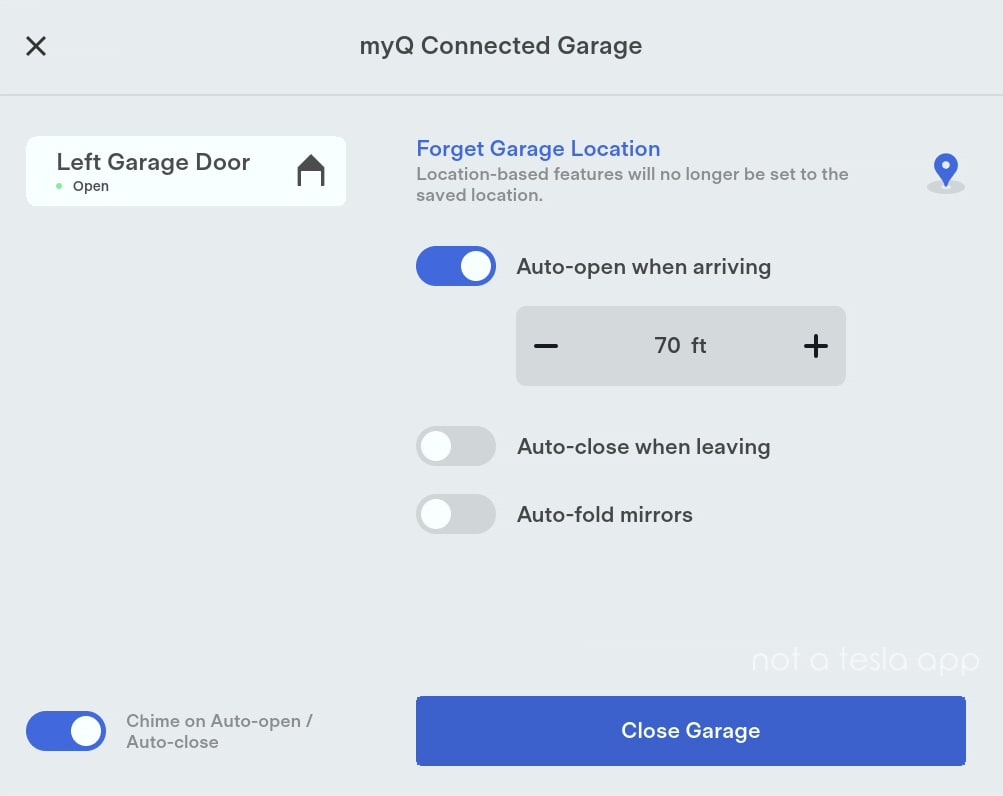 In late 2022 Tesla added the ability to control your garage door over WiFi or cellular data through its myQ integration. For vehicles that do not include HomeLink, such as newer Model 3s and Model Ys, this is a great alternative to adding HomeLink to your vehicle, especially if your garage door already supports myQ.
Vehicles Supported
Almost all Teslas support myQ, which includes the Model 3, Model Y and the 2021+ Model S and Model X. Unfortunately, it currently does not support the legacy Model S and Model X, but support could be added at a later point.
Supported Regions
Tesla supports myQ integration in a wide variety of regions, but the feature is not available in every country. The list of supported countries includes the U.S. and Canada, although it leaves out other countries such as Australia and the United Kingdom. It's not clear why it's only available in some regions, but it could be due to where myQ currently supports their devices.
Supported Devices
Tesla's current myQ integration is exclusively for garage doors. Although myQ does support other devices such as gates in their app, Tesla's integration will not work with myQ cameras, lights or gates.
MyQ Hub
Newer garage door openers support myQ natively, but you can also add myQ to older garage door motors. The myQ hub works by connecting your garage door to the internet through the use of a wireless hub. The myQ hub is an affordable device that turns almost any garage door motor into a WiFi-capable garage door opener. The hub can be bought on Amazon for $30 or less.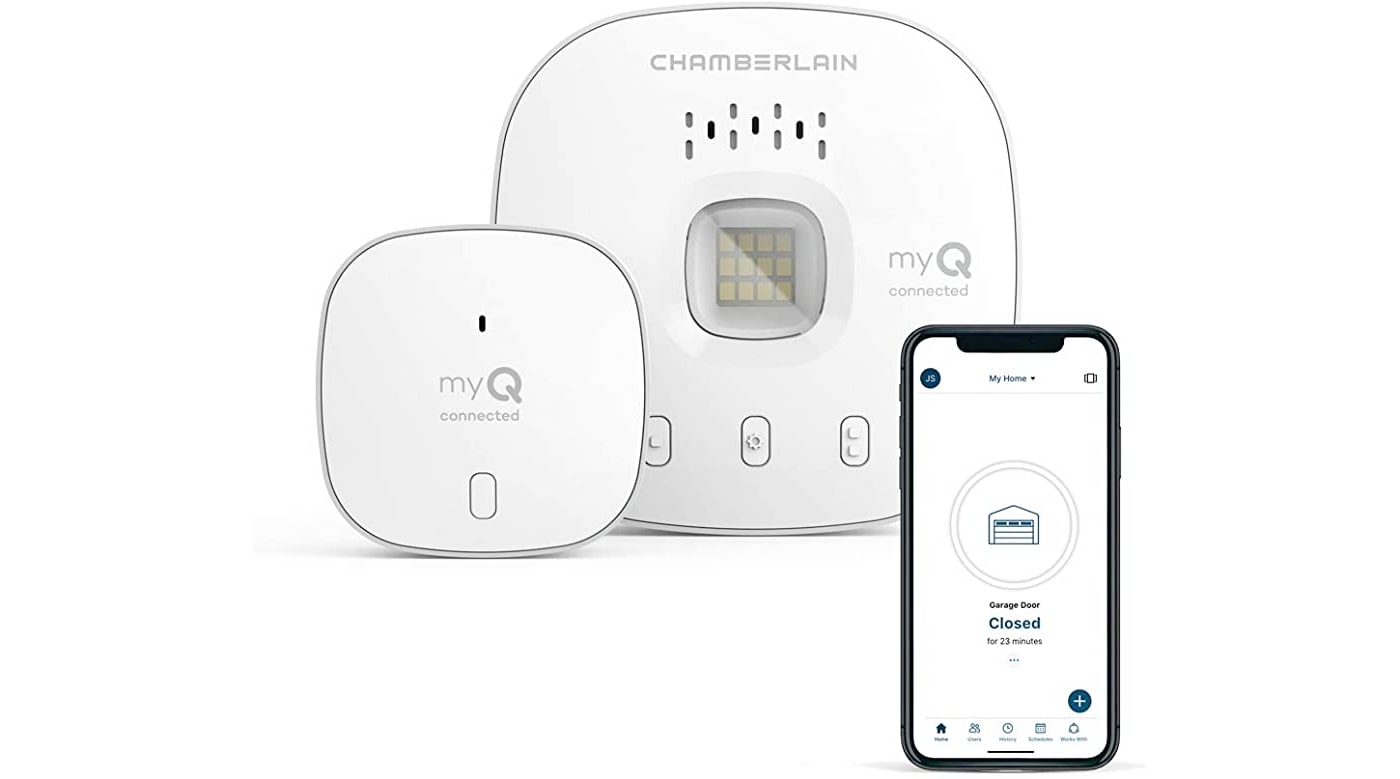 Subscription Cost
Although myQ does not charge a fee to remotely open and close garage doors through their mobile app, they do charge to use myQ integration in a Tesla and other vehicles. This is a similar model to how some software it free to use on a computer, but requires a subscription on your mobile phone.
MyQ offers various price points depending on the length of time. They range from $45/year to a 10-year subscription for $299. MyQ also offers a 5-year plan for $179. Although the subscription cost is high, it is still cheaper than Tesla's $350 installation cost for HomeLink.
Unfortunately, for owners who already have a HomeLink module installed, paying for myQ doesn't make a lot of sense. However, there are some advantages to having myQ instead of HomeLink.
MyQ Settings
Tesla's myQ integration is very similar to HomeLink, and better in some ways. On the myQ settings screen, you have a list of supported devices running down the left side. On the right side, you'll see options about the device selected, such as its current state, and options such as auto-open, auto-close and auto-fold mirrors.
You'll be able to set or reset your garage door's location, which uses your vehicle's current GPS location. You'll want to set this when your vehicle is directly in front of your garage. You can also have your vehicle chime when the auto-open or auto-close feature is about to activate.
If you've used HomeLink before, this integration is very similar. Although the UI is slightly different, the features are almost the same as the ones offered through HomeLink.
Differences Between myQ and HomeLink
There are a few differences between myQ integration and HomeLink. Neither system is the clear winner, and the one that is right for you will depend on various factors.
Advantages of myQ
MyQ is a smarter system with additional sensors, so it offers a few advantages over the older HomeLink standard.
MyQ Fixes the Auto-Open Feature
During installation myQ has you add a sensor to each of your garage doors. This sensor lets myQ know whether your garage door is open or closed. Your Tesla will even display the state of the garage door, letting your check whether your garage is open or closed from anywhere in the world. Although myQ also keeps track of how long ago your garage door was opened or closed, this information does not show up in your Tesla.
Since myQ knows the state of your garage door, it can help prevent some issues that are seen in HomeLink. One of the biggest issues with HomeLink is due to it not knowing whether your garage door is already open. With myQ you will no longer arrive home when your garage door is opened, only to have your auto-open feature close the garage door on you. Since myQ knows the state of your garage door, it will only trigger the open and close commands when needed.
MyQ Works From Further Away
Another advantage of myQ is that it leverages your Tesla's internet connectivity. MyQ will send the signal to open or close your garage door over the internet, letting you open your garage door from anywhere in the world. However, the most practical advantage of using the internet to open your garage door is that you set your garage door to auto-open from much further away. This gives your garage door time to fully open before you arrive. MyQ does not require you to have Tesla's Premium Connectivity feature in order to use it.
Additional Devices
HomeLink has a hard limit of three devices. Although this is enough for most people, you may find yourself hitting the limit if you also have gates you may want to open or would like to program your Tesla to open the garage door at your parent's house. MyQ does not have a limit to the number of garage doors you can program, giving you additional flexibility. If your vehicle also supports HomeLink, this could free up some HomeLink presets, letting you use it for devices that myQ doesn't support.
Disadvantages of myQ
Although myQ is certainly the smarter garage door system, HomeLink does have some advantages over myQ as well, mainly around reliability and setup.
MyQ Subscription
HomeLink is free to use, so if your vehicle already has HomeLink integration, it could be the obvious choice. Nowadays many of us already have more monthly subscriptions than we'd like to, so myQ's subscription cost will certainly be a turnoff for some owners.
Requires Internet
Since myQ uses the internet to control your garage door, it could be less reliable than HomeLink. Not only is myQ relying on your vehicle's cellular connection, but it's also relying on your home's internet connection and the hub's connection to WiFi. If you live in an area with poor cellular reception, have a weak WiFi signal in your garage, or have frequent internet outages, HomeLink may be the more reliable system.
Hub Setup
If your garage door doesn't support myQ already, then you'll need to add a myQ hub. This requires an additional device and setup, whereas the HomeLink module works directly with your garage door. HomeLink is essentially an additional remote for your garage door that is built into your Tesla.
If you're adding a hub, myQ also requires you to mount a wireless sensor on your garage door. This sensor lets myQ know whether your garage door is opened or closed. MyQ also requires you to set up a myQ hub that will communicate with your home's network, your garage door and the wireless sensor.
The hub needs to be placed in your garage, although it does not require you to wire anything to your garage door motor or buttons. The hub only requires access to WiFi and a power outlet.
The myQ hub does various things. First, it's the device that will receive the signal over the internet to open your garage door. It will also communicate wirelessly with your myQ garage door sensor and your garage door motor. Although myQ's setup is painless, it does introduce additional points of failure that HomeLink simply doesn't have.
MyQ Signal Delay
MyQ will often introduce a delay when closing your garage door for additional safety. When you close your garage door you may often hear beeping and see the light on your myQ hub flash, alerting any bystanders that the garage door is about to close.
The delay between when you tap to close your garage door and when it starts to close is about 8 seconds. If you're leaving home and close the garage door from your car, it can often leave you wondering if the system is working. There is never a delay when opening your garage door using myQ.
Although myQ integration is well executed and provides some advantages over HomeLink, it does have a few drawbacks of its own. For owners who don't have a HomeLink module installed in their vehicles, it offers a more affordable and easier solution than adding HomeLink to their cars.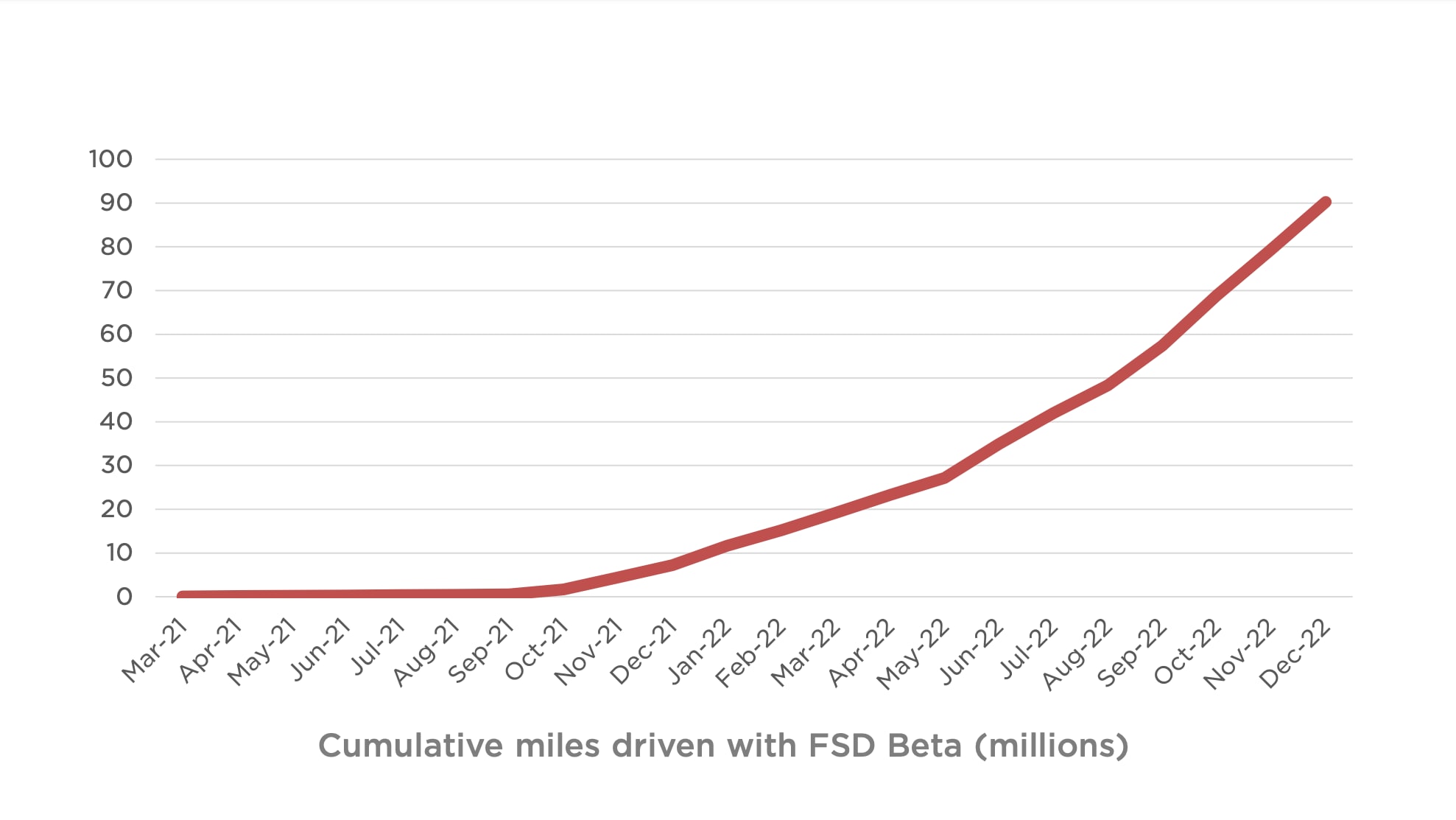 Tesla's Full Self Driving (FSD) technology took a giant leap forward in distributing FSD Beta to 400,000 customers in North America. It is a significant milestone for the development of autonomous driving and highlights Tesla's commitment to bringing this cutting-edge technology to the masses. A new version, v11.3 could roll out any day.
Number of Testers Over Time
Tesla made FSD Beta public a little more than two years ago, around October 2020. It was initially only made available to less than a handful of testers, but that pool grew to about 1,000 users later that year.
Since then Tesla has gradually increased the number of testers. The ramp from the initial 1,000 testers took some time, but by October 2021 Tesla had opened it up further through its Safety Score program. By January 2022, it was available to about 60,000 owners.
In March of 2022, Tesla expanded FSD Beta to Canada, gradually adding additional testers, and eventually increasing the number of testers across the U.S. and Canada to 160,000 in September.
Tesla announced this December that the number of testers had grown to 285,000 and recently said this January that it's now accessible to 400,000 Tesla owners.
FSD Beta Expansion and Milestones
| | |
| --- | --- |
| Date | Milestone |
| October, 2020 | Opened to select testers |
| Late 2020 | ~ 1,000 added |
| October 2021 | Start of expansion through Safety Score |
| January 2022 | Available to 60,000 testers |
| March 2022 | Expansion to Canada |
| July 2022 | Available to 160,000 testers |
| December 2022 | Available to 285,000 testers |
| January 2023 | Access given to 400,000 owners |
Faster Feedback
The deployment of FSD Beta to such a large number of customers will provide an unprecedented level of testing and feedback, allowing Tesla to refine the technology and bring it to an even higher level of reliability and safety. Furthermore, with over 90 million miles driven on FSD outside of highways, the published data shows a clear improvement in safety statistics, demonstrating the potential for autonomous driving to revolutionize the way we travel.
This increased testing level will help improve the technology even further, as the system can learn from a broader range of driving scenarios and road conditions.
FSD Will Make the Roads Safer
The safety benefits of Full Self Driving technology will be a major selling point for Tesla and one of the primary reasons for its rapid growth. Using cameras and other advanced technologies, FSD can monitor the road and make real-time adjustments to ensure the vehicle operates safely and efficiently. As a result, this technology reduces the likelihood of accidents and provides passengers with a safer, more comfortable driving experience.
Overall, making FSD Beta available to 400,000 customers represents a major step forward for Tesla and the entire autonomous driving industry. It's now available to all customers who have purchased or subscribed to FSD in the U.S. and Canada. The next big expansion is expected to be in Europe sometime this year.
With its focus on safety and reliability, Tesla is leading the way toward a future where driving is fully autonomous, and accidents are a thing of the past. As technology continues to evolve, we can expect to see even more impressive advances in the coming years, bringing us closer to a world where autonomous vehicles are a common sight on our roads.