Stormforce Gaming Onyx 6164 gaming PC: Two-minute review
With a dazzling RGB case design, you'd be forgiven for thinking that the Onyx 6164 from Stormforce Gaming was trying to distract you from something. But this budget gaming PC, equipped with a 12th-gen Core i5 processor and Nvidia RTX 3060 GPU, packs a decent punch for its price.
It doesn't throw in any extras — omitting even Bluetooth connectivity, while opting for last-gen components in its processor and GPU — but the elements that make up its build perform well. 
Provided you're happy playing at 1080p and (with concessions) 1440p resolutions, you can get smooth performance and high frame rates from all but the absolute most demanding AAA game graphical presets. This ain't the machine for Cyberpunk 2077's new 'Overdrive' mode, but dial back the settings and you can still happily hang out with rocker-boy Keanu quite happily at more modest resolutions.
There's value to be had here then, but the fear is that may soon be short lived — with Nvidia's new RTX 4070 card beginning to appear in builds not a huge amount more expensive than what Stormforce offers here, more bang-for-buck may be sitting just over the horizon…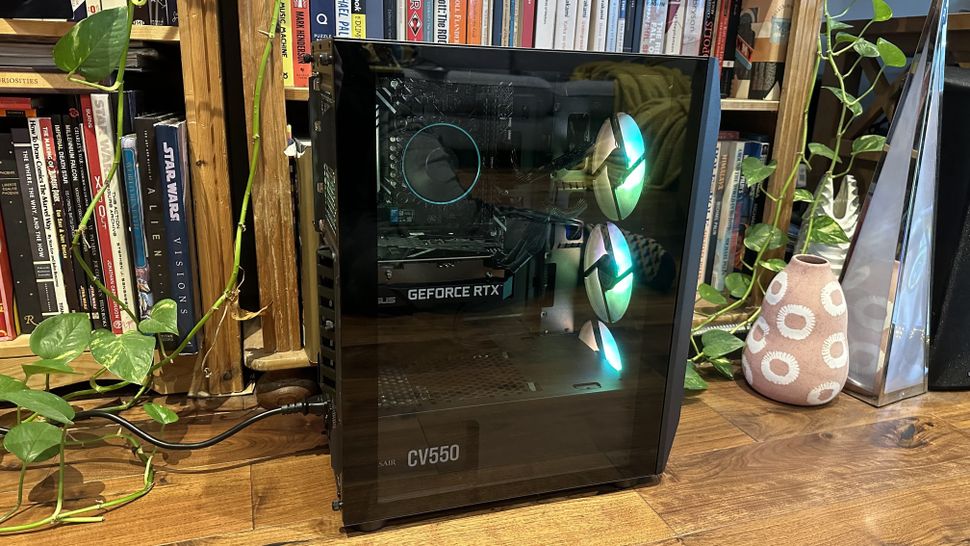 Stormforce Gaming Onyx 6164 gaming PC: Price and availability
How much does it cost? RRP £1,089.99 / (about $1350 / AU$2010)
When is it available? Available now
Where can you get it? Available in the UK
Available now, the Oynx 6164 has an RRP of £1089.99, but is currently discounted to £949.99 ($1,355 / AU$1,180) with free shipping and a three year warranty. 
That feels like a fair price for the system at the moment, but we're very much entering the sunset days for the RTX 3xxx series cards, with budget-oriented RTX 4xxx series options just around the corner. 
It's worth noting that Stormforce is a UK-based PC maker, so while its systems are easily available in its home country, if you're in the US and Australia, you'd have to import them.
Stormforce Gaming Onyx 6164 gaming PC: Specs
Though Stormforce offers other gaming PCs, this is the only configuration that the Onyx 6164 gaming PC comes in. 
Swipe to scroll horizontally
| | Stormforce Gaming Onyx 6164 |
| --- | --- |
| Price: | £1,089.99 |
| CPU: | Intel Core i5 12400F |
| Graphics: | Nvidia RTX 3060 12GB vRAM |
| RAM: | 16GB |
| Storage: | 500GB NVMe SSD |
| Ports: | 2x USB 3.2, 2x USB 2.0, mic, headphone jack Ports (front), 2x USB 3.2, 4x USB 2.0 (back) |
| Connectivity: | Wi-Fi 802.11ac, Ethernet |
| Power Supply: | Corsair CV550 (550W) |
| Case: | Cougar MX410 Mesh-G RGB |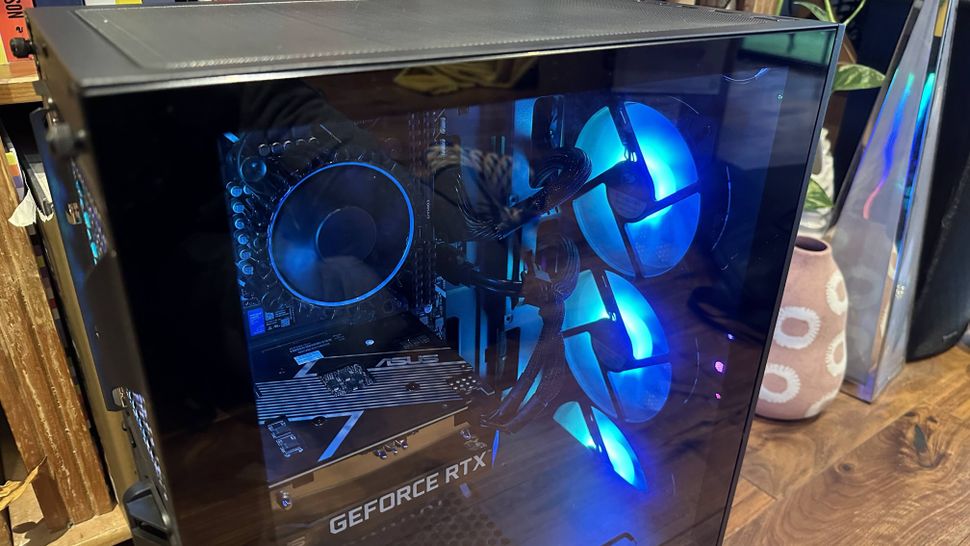 Stormforce Gaming Onyx 6164 gaming PC: Design
Bold RGB lighting
Last-gen components
Could do with more storage space
It's hard to miss the Stormforce Gaming Onyx 6164 gaming PC when you're in its presence. It has one of the most in-your-face RGB lighting arrays I've ever seen in a gaming PC outside of the custom-build market. 
Using a Cougar MX410 MESH-G RGB ATX Gaming Case, it has three colourfully-lit fans around the front edge, straddled by two RGB strips, and another colourful exhaust fan around the back. Its day-glo patterns can be cycled through with a physical button on the front of the machine, but you'll need to dive into the BIOS (or optional Asus Armory Crate software) to disable them altogether. It's a relatively uniformly sized cuboid case, measuring 455 x 210 x 380mm.
Things are kept a bit more simple under the hood — you've got a last gen Intel Core i5 12400F running the show, Nvidia's budget workhorse GTX 3060 GPU on graphics duties, 16GB of DDR4 RAM and a 500GB NVMe solid state drive. It's a shame there isn't at least a budget HDD in here too as that 500GB drops to 464GB of usable space, and that's before counting the Windows installation. Be prepared to juggle game installs if you're playing a few games with larger installation sizes.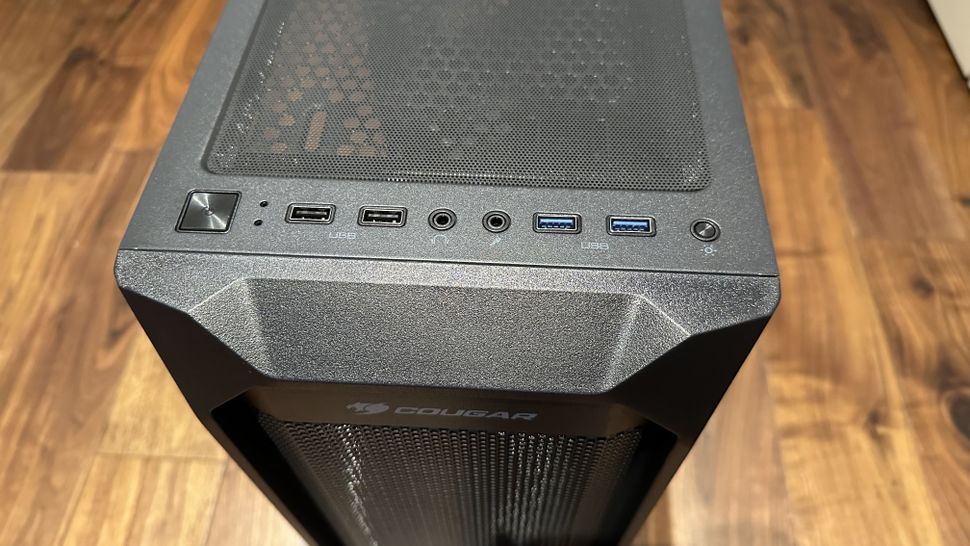 In terms of I/O, you've got a fairly decent selection on the case. Around the front edge on the top side of the case you'll find two USB 2.0 ports, two USB 3.0 ports, plus mic and headphone 3.5mm jack inputs, alongside power and that lighting switcher button. Around the back the motherboard offers a further four USB 2.0 ports, two more USB 3.2 ports, HDMI, DisplayPort, Serial, PS/2 for mouse and keyboard, Ethernet, and speaker / mic / line-in jacks, too. 
DisplayPort and HDMI connections can be found on the GPU. There's plenty of places to plug stuff in then, and easily accessible around the front too — though these days I'd like to see at least one USB-C port, even on a budget PC, and would have preferred a few more of those ports to have been of the USB 3 variety. And though Wi-Fi is built in, Bluetooth is not, meaning you're going to lose those ports to wired devices — or at least an external Bluetooth dongle.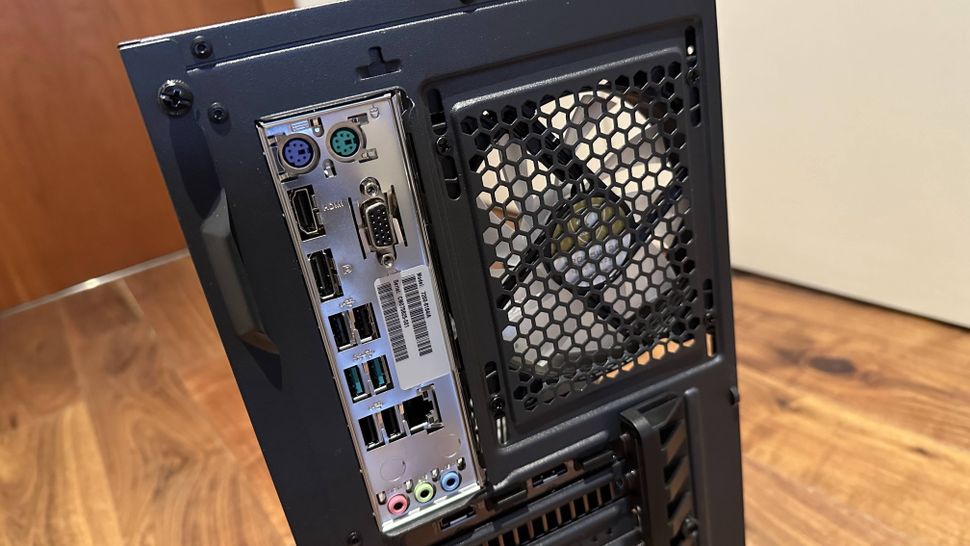 The Onyx 6164 is a pretty barebones system then, but one with a lot of external flash for the RGB lover in your life. The case is relatively roomy should you want to do some DIY upgrades later down the line, but you're going to be limited by the Corsair CV550 power supply that's built in here (unless you upgrade that too), which will quickly reach its max load once you start topping the machine up with more powerful components.
Stormforce Gaming Onyx 6164 gaming PC: Performance
Great performance at 1080p, and surprisingly good at 1440p, too
Remains quiet under heavy load
Holds its own running games as demanding as Cyberpunk 2077
Stormforce Gaming Onyx 6164: Benchmarks
Here's how the Stormforce Gaming Onyx 6164 performed in our suite of benchmark tests:
3DMark: Night Raid: 49,290; Fire Strike: 19,977 ; Time Spy:  8,704
Cinebench R23: 1,532 (single-core); 10,835 (multi-core)
GeekBench 6: 1,999 (single-core); 8,509 (multi-core)
PCMark 10 (Modern Office): 6,655 points
Total War: Warhammer III (1080p, Ultra): 74.1 fps; (1080p, Low): 198 fps
Cyberpunk 2077 (1080p, Ultra): 78 fps; (1080p, Low): 110 fps
Dirt 5 (1080p, Ultra High): 84 fps; (1080p, Ultra Low): 194 fps
If you're happy with 1080p performance, or even 1440p resolutions with some concessions, you'll have a great time with the Onyx 6164. 
I was able to tear around Dirt 5's mud-soaked tracks at a silky smooth 194 fps at 1080p resolution and Ultra Low settings, maxing out my 144Hz G-Sync monitor, and enjoyed a similarly smooth experience at 1440p with only a few graphical tweaks made. Total War Warhammer III's giant armies of miniature goblins tends to be a bigger CPU tax, but it too performed well here, averaging out at above 70 fps at Ultra settings and 1080p resolution. Cyberpunk 2077 remains the 'Can it Run Crysis?' test of modern times, and that's still the case here — though 1080p Ultra settings tests delivered a respectable 78 fps, you're still going to want to steer clear of ray-tracing options on a 3060 card like this unless you want to effectively play a slideshow.
They're pretty challenging titles — hence being our benchmark tests of choice! But if you're looking to play the most popular titles on Steam, like Counter-Strike Global Offensive or Dota 2, or the all-conquering Fortnite over on the Epic Games Store, you'll easily be able to hit triple-digit frame rates with some settings tinkering. It's simply a matter of how wedded to higher resolutions and top-end graphical effects you are, but even a title like Battlefield V will deliver consistent 60-80fps at 1440p and Ultra settings, and 150fps+ for GTA V at 1080p.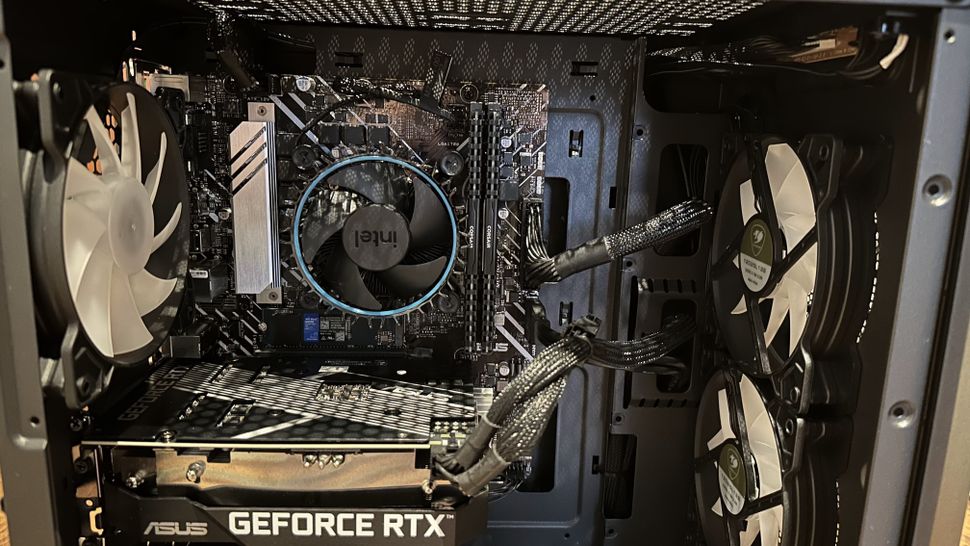 With only modest internals but a spacious case design, components are able to stay quite cool under load, meaning that the fans don't go into a whirring overdrive all that often. You've got a machine that lets you hear your games, and not the fans — though the GPU fans do have a high-pitched piercing quality when they do have to kick in.
Performance is enjoyable then, but the elephant in the room however is the release of Nvidia's 4070 series GPUs. With the inflated GPU pricing of recent years finally calming down, the 4070 series cards are reasonably priced, and in line with performance from last year's high-end cards. We're already starting to see some manufacturers putting versions of the 4070 card into builds not far north of the £1000 / $1100 mark. So if you can hold out a little longer before making your purchase, you may be able to find similar priced machines offering far more powerful GPU specs in a short period of time.
Stormforce Gaming Onyx 6164 gaming PC: Software and features
The amount of pre-installed software crud is kept to a minimum, while the encouraged installation prompts upon setting up the computer tend to be some of the more useful ones. 
There's a prompt to get the ASUS Armoury Crate software suite, which has a couple of handy utilities for updating drivers and creating performance, fan and RGB profiles, CPUID for notes on your hardware configuration, and Norton 360 antivirus. But all of these are thankfully optional, leaving you with an otherwise clean Windows 11 install out of the box. 
Should you buy the Stormforce Gaming Onyx 6164?
Swipe to scroll horizontally
Stormforce Gaming Onyx 6164

| Attributes | Notes | Rating |
| --- | --- | --- |
| Price | Good value at present, but we're at the tail end of the generation for some of the components | 4 / 5 |
| Design | A fun and flashy exterior, but only the bare essentials sit under the hood | 3 / 5 |
| Performance | Great entry-level performance in line with expectations for the components used | 4./ 5 |
| Total Average | A solid gaming PC that is just on the verge of being superseded by more powerful budget components | 4 / 5 |
Buy it if…
Don't buy it if…
Stormforce Gaming Onyx 6164: Also consider
Swipe to scroll horizontally
| | Stormforce Gaming Onyx 6164 | Steam Deck | Acer Predator Orion 3000 |
| --- | --- | --- | --- |
| Price: | £1,089.99 | $529 / £459 | $1,449 / £1,099 |
| CPU: | Intel Core i5 12400F | AMD Zen 2 four core 2.4-3.5GHz | Intel Core i5-12400F |
| Graphics: | Nvidia RTX 3060 12GB vRAM | AMD RDNA 2 | Nvidia RTX 3060 Ti |
| RAM: | 16GB | 16GB LPDDR5 | 16GB |
| Storage: | 500GB NVMe SSD | 512GB PCIe SSD | 256GB M.2 SSD + 1TB HDD |
| Ports: | 2x USB 3.2, 2x USB 2.0, mic, headphone jack Ports (front), 2x USB 3.2, 4x USB 2.0 (back) | USB-C, 3.5mm headphone jack, microSD | 1 x USB-A 3.1, 1 x USB-C, 1 x headphone jack and 1 x microphone jack |
| Connectivity: | Wi-Fi 802.11ac, Ethernet | Wi-Fi 5, Bluetooth 5 | Intel Killer E2600 Ethernet, Wi-Fi 6E, Bluetooth 5.0 |
If our Stormforce Gaming Onyx 6164 gaming PC review has you considering other options, you should consider… 
How I tested the Stormforce Gaming Onyx 6164 gaming PC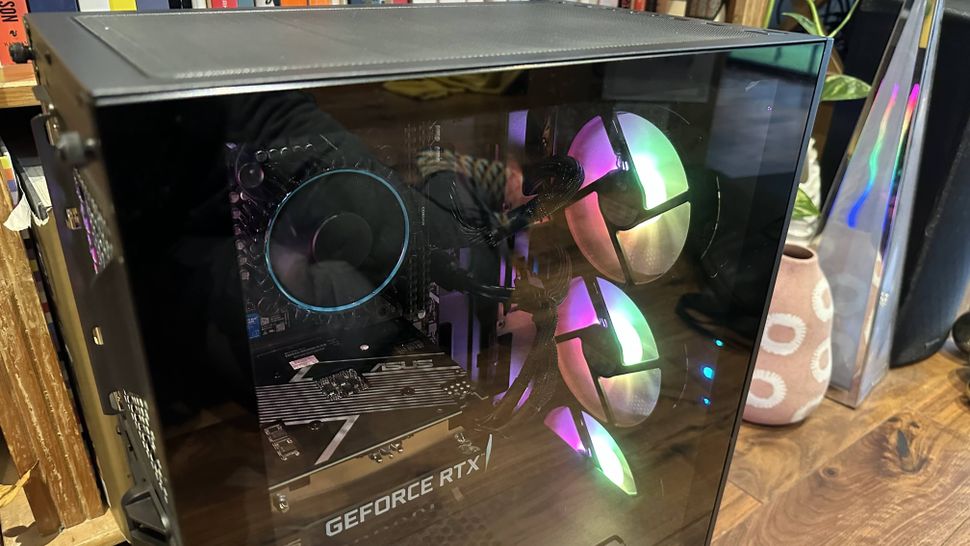 Two week testing
Gaming / Web browsing
Steam / Epic Games / Multiple PC games including Total War Warhammer 3 and Dirt 5 / Benchmark tools including Geekbench, 3D Mark and PC Mark
Over the course of two weeks I played several high-end PC titles, including challenging benchmark-worthy games including Cyberpunk 2077, Total War Warhammer 3 and Dirt 3. 
It's a solid option for a gaming PC for newcomers to the format, though its use of older components may make it a weaker choice very soon, given a new wave of GPU options are on the way, particularly Nvidia's RTX 4070 cards.
Having been a technology and gaming journalist for more than 15 years, I've tested dozens of computers and played and reviewed countless games. I'm a regular gamer at home across Xbox Series X, PS5 and Nintendo Switch consoles, and have my own gaming PC equipped with the latest-generation of Intel processors and a Nvidia RTX 3080 GPU.
Read more about how we test
First reviewed April 2023