We're three quarters of the way through 2022, if you're keeping score at home, and that means we're slap bang in the middle of the annual game release blitzkrieg. Whether you'll actually be able to afford any of these games is another story, but if you've got the cash to spare, October 2022's new games look absolutely delightful.
October is packed this year, with games like No More Heroes 3 and Persona 5 Royal finally being ported to additional platforms, or the release of the Shadow of Rose DLC for Resident Evil Village. However, October 2022 includes a varied collection of new releases that you should also be excited about. From action RPGs to horror, sports titles to games about way too many rats, here's all the new games of October 2022 to keep an eye on.
October 2022 New Games
Dragon Ball: The Breakers | October 14th, 2022
Developer: Dimps
Publisher: Bandai Namco
Platform(s): PC, PS4, PS5, Xbox One, Xbox Series X & S, Switch
The continued success of Dead By Daylight naturally meant that copycat games were inevitable, but no one expected Dragon Ball to be following in those footsteps. This is the world we live in though, as Bandai Namco are releasing Dragon Ball: The Breakers, an anime take on a bunch of survivors trying to outwit and outmanoeuvre one extremely powerful antagonist. Trying to outrun Cell is obviously better than avoiding Michael Myers, right?
Dragon Ball: The Breakers will see a team of players trying their luck against one supremely powerful hunter, which is one of several popular villains from the Dragon Ball series. Meanwhile, the survivors will have to use stealth, weaponry and capsules containing the souls of franchise heroes in order to fight off the antagonist long enough to escape.
It might not be up to the same standards of other asymmetrical multiplayer games, but The Breakers should be decent fun, especially for Dragon Ball fans.
PGA Tour 2K23 | October 14th, 2022
Developer: HB Studios
Publisher: 2K Games
Platform(s): PC, PS4, PS5, Xbox One, Xbox Series X & S
Good news for dads everywhere looking for a new favourite video game, as PGA Tour 2K23 aims to set a new gold standard for golf games.
If you're nostalgic for the days of the EA Sports Tiger Woods games, PGA Tour 2K23 might just be the game for you, and I'm not just saying that because 2K struck a deal with Tiger to put him on the cover. Okay, maybe it's a little bit because of that.
The continuation of the already successful series of golf games from HB Studios that started with The Golf Club, players will be able to play as or against Tiger Woods for the first time in years. PGA Tour 2K23 will allow players to create their own custom golfer and head out onto the PGA Tour MyCareer to win championships and improve their stats. After that, you can head online and test your mettle against the best virtual golfers from around the world.
Scorn | October 14th, 2022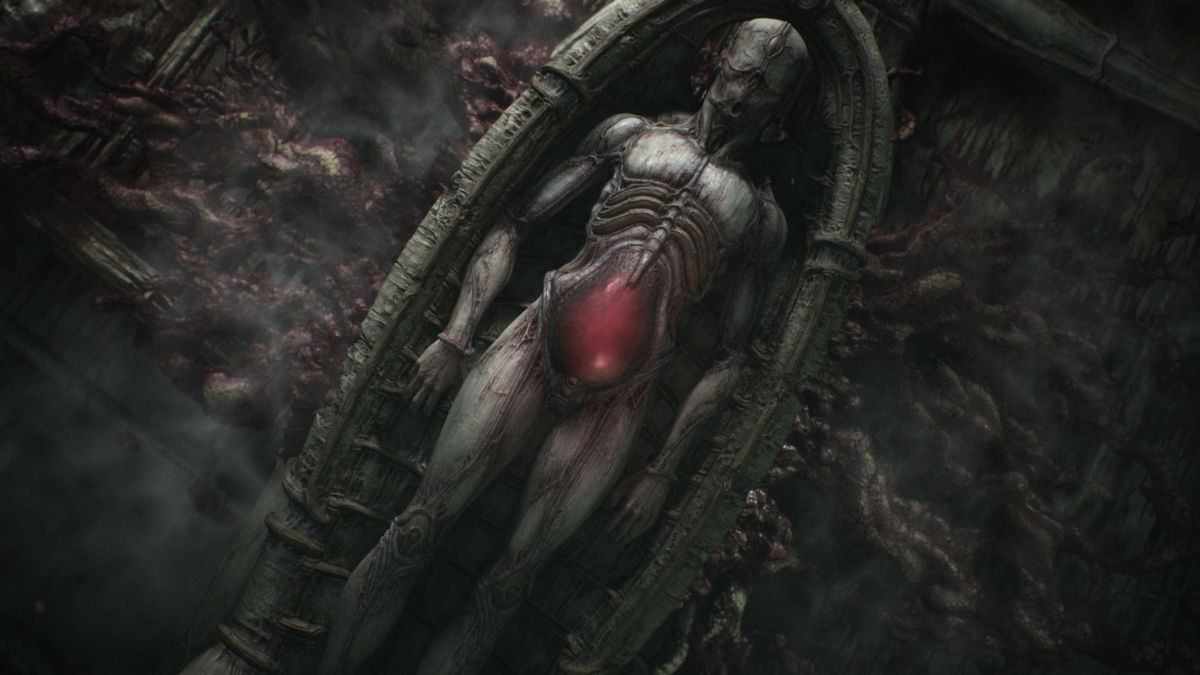 Developer: Ebb Software
Publisher: Ebb Software, Kepler Interactive
Platform(s): PC, Xbox Series X & S
Ebb Software must have a thing for the gross and slimy, if Scorn is anything to go by. Anyone who has a love and appreciation for the "biomechanical" art style and setting that was pioneered by artist H.R. Giger will have plenty to enjoy with Scorn, as the game is filled with all manners of weird. It's fitting that Scorn would be launching in October, then, as it could just be one of the best and most original horror games in recent memory.
Scorn sees players waking up on a foriegn planet that's filled with odd creatures and lots of techno-organic structures. This nightmarish labyrinth of flesh, metal and bone can be navigated however the player sees fit, as you'll solve puzzles and obtain clues about the game's world.
Just beware of the creatures themselves, as they might not take too kindly to you roaming around. At least you have an organic pistol attached to you at all times.
A Plague Tale: Requiem | October 18th, 2022
Developer: Asobo Studio
Publisher: Focus Entertainment
Platform(s): PC, PS5, Xbox Series X & S, Switch (via Cloud)
A Plague Tale: Innocence is a highly underrated modern masterpiece, let down only by the frustration of one gameplay section right near the end. Pushing that cart in Chapter 16 can go to hell, for all I care. Still, one annoying section isn't enough to ruin what is an incredibly emotional and wonderful game, and Amicia and Hugo are set to do it all over again in A Plague Tale: Requiem.
If you don't like rats, this one isn't for you.
A Plague Tale: Requiem sees Amicia and Hugo travelling south to try and avoid all the calamity that occurred in the first game. While they're successful for a time, everything suddenly goes wrong for the pair, and Amicia will have to rely on her well-honed stealth and survival skills to make it through once again. Fortunately though, Hugo's powers have grown since the first game, so if you want to send some rats to do your bidding, that's also an option.
The Last Hero Of Nostalgaia | October 19th, 2022
Developer: Over The Moon
Publisher: Coatsink
Platform(s): PC, Xbox One, Xbox Series X & S
Soulslikes are here to stay at this point, but The Last Hero Of Nostalgaia might just take the trophy for being the first one to be a comedic focused experience, as well as being a challenging game too. If you're looking for plenty of meta jokes about the world of video games, while also taking down challenging bosses and falling for traps, The Last Hero Of Nostalgaia is the game for you.
Nostalgaia is the world of video games, but it's currently collapsing due to a mysterious pixelation that's sweeping across the world. In Nostalgaia's darkest hour, a new hero emerges who just so happens to be the most pixelated monstrosity ever created. As this mysterious hero, you'll set out to save Nostalgaia once and for all, all the while being egged on by a cynical narrator who loves to see you fail.
With two player co-op enabled, The Last Hero Of Nostalgaia could be an excellent Soulslike adventure.
Mario + Rabbids: Sparks Of Hope | October 20th, 2022
Developer: Ubisoft Milan, Ubisoft Paris
Publisher: Ubisoft
Platform(s): Switch
The fusion of Nintendo's Mario and Ubisoft's Rabbids has been an odd one to say the least, but it did lead to Mario + Rabbids: Kingdom Battle, which could take the crown as one of the Switch's biggest surprise hits. Everyone expected Super Mario Odyssey, Smash Ultimate and Breath of the Wild to succeed, but a turn-based strategy game featuring Mario and the Rabbids? That's a curveball, but its success has led to the sequel, Sparks of Hope, which looks to build on that already established formula.
While Sparks of Hope is still a turn-based strategy game, the gameplay and movement has been overhauled significantly to give the player a lot more freedom when deciding what to do. There's more new characters too, including fully voiced Rabbids, which might be enough to sway people to purchase this game or never touch it.
Either or, really, but it can't be denied that Sparks of Hope is one of the more intriguing October 2022 releases.
Gotham Knights | October 21st, 2022
Developer: WB Games Montreal
Publisher: Warner Bros. Interactive Entertainment
Platform(s): PC, PS5, Xbox Series X & S
How do people still live in Gotham these days? The entire city is seemingly filled with super villains and New York sounding goons who can only say "IT'S DA BAT" every night. Either way, Gotham Knights sees what's left of the Bat Family trying to protect this beleaguered city from an onslaught of threats in the wake of Batman's supposed demise. The developers keep saying he's dead dead, but a comic book death is a conman's ruse.
Gotham Knights is an action RPG with support for four player co-op. The game sees Nightwing, Robin, Red Hood and Batgirl attempting to defend Gotham from supervillains that have become a bit bolder since the death of Batman. With villains like Mr Freeze and The Court of Owls to contend with, the Bat Family has a lot of work cut out for them, but Gotham Knights has the potential to be the next great DC video game.
Only time will tell on that front.
New Tales From The Borderlands | October 21st, 2022
Developer: Gearbox Software
Publisher: 2K Games
Platform(s): PC, PS4, PS5, Xbox One, Xbox Series X & S, Switch
Ask enough people what their favourite Telltale game was, and more than a sizable portion of them will say Tales From The Borderlands. Looking back, it's not hard to see why, as the game kept the humour and tone of Borderlands, yet added a story that gave weight and depth to the franchise's world, so it's no surprise that Gearbox have recruited some former Telltale-alum to create New Tales From The Borderlands.
New Tales From The Borderlands will move the focus away from the all powerful Vault Hunters and instead spotlight the everyday folk of Pandora. You know, the ones who are regularly fed to the never-ending machine of corporate capitalism, or are victims of the latest raid. Those guys.
NTFTB sees new characters Fran, Octavio and Anu trying to make a life for themselves on Pandora, with your choices having an impact on the characters and world. Choose wisely.
Star Ocean: The Divine Force | October 27th, 2022
Developer: tri-Ace, Square Enix
Publisher: Square Enix
Platform(s): PC, PS4, PS5, Xbox One, Xbox Series X & S
The Star Ocean series has been somewhat of an unsung hero when it comes to JRPGs, as it maintains a loyal following but often doesn't get the same love that the likes of Persona, Final Fantasy and other popular JRPG franchises get. Star Ocean: The Divine Force is tri-Ace's biggest opportunity yet to make a huge splash with this series, and there's every chance they might succeed. You know, if you're not too busy spending October playing Persona 5 Royal again.
Star Ocean: The Divine Force sees players controlling Raymond, who crash lands on a primitive planet during a routine transport mission. Here, he teams up with Princess Laeticia, who is trying to protect her homeland from an invading empire. Together, they'll embark on a quest that'll decide the fate of the whole universe.
With a host of combat and gameplay improvements, and a reliable story premise, Star Ocean: The Divine Force could be a series best. That's if it can live up to the earth-shattering moment in Star Ocean: The Last Hope anyway.
Bayonetta 3 | October 28th, 2022
Developer: PlatinumGames
Publisher: Nintendo
Platform(s): Switch
The measuring stick of character action games, it feels like we've been waiting forever for Bayonetta 3 to drop, but it's finally happening. The Umbran Witch's third outing looks to build on the style and spectacle of the previous two games, while also introducing new characters and concepts that should really flesh out the world of Bayonetta. The witch-in-training/new playable character Viola alone should help shake up the Bayo formula.
Instead of taking on angels and demons, Bayonetta 3 sees the titular witch tackling man-made monstrosities known as Homunculi, while also trying to prevent the end of the world at the hands of The Singularity. Thankfully, Bayo comes with plenty of new abilities, including Demon Slave and Demon Masquerade, which will allow you to put your summonable demons to use in a variety of creative ways.
As October 2022's new games go, Bayonetta 3 might just be the most exciting.
READ MORE: 10 New Anime of October 2022 You Need To Watch
Some of the coverage you find on Cultured Vultures contains affiliate links, which provide us with small commissions based on purchases made from visiting our site. We cover gaming news, movie reviews, wrestling and much more.